Are you an Orphan Voter? Find out and win some $$$
Saturday, September 27th, 2008 at 9:40 am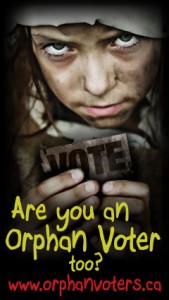 Are you a neglected and abused citizen who yearns to be represented in Parliament, only to be turned away because your vote elects no one?
OrphanVoter.ca is a campaign launched by Fair Vote Canada to reach out to these neglected voters. This is a fun and informative site that has all kinds of stats on how many people elected no one last time around, nationally, provincially and in each riding. They also have a contest this election for people to guess how many votes won't count, both nationally and in each province.
More from Orphan Voter Facebook group:
The throngs of orphans include Liberals in the West, Conservatives in urban centres, and New Democrats and Greens everywhere. In fact, the MAJORITY of Canadians who cast ballots in federal elections usually elect no one. Last election, most Canadians casting ballots – 7,584,409 in fact – were abandoned by our political system.

Why are so many voters deserted & ignored by our uncaring electoral system? Most of us live in ridings where the winner is a foregone conclusion, and it's only in a few dozen "swing" ridings where the election will be decided and which get most of the attention. Moreover, in each riding only the voters supporting the most popular party can elect an MP: the other voters send no one to Ottawa. And because politicians can win seats even when the majority vote against them, the overall election results are skewed. In fact a party often wins a majority of seats
without even winning a majority of votes.

Join other orphan voters across the country to demand a fairer system from our politicians. After all, there's more of us than there is of them.
Tagged with: Election Reform • fair vote • orphan voter • wasted vote
Filed under: Canada 2008
Like this post? Subscribe to my RSS feed and get loads more!